Ashley Photoshoot med Smallz and Raskind!
Publicerat: 2009-08-25
---
Bild på Alice Cullen :)
Publicerat: 2009-08-21
---
Intervju med Ashley
Publicerat: 2009-08-19
Canmag.com har nyligen gjort en intervju med Ashley! :)
Twilight introduced the Cullen clan to the real world, portrayed by real life hottie actors, not just some writer's imagination. Ashley Greene returns to play Alice Cullen in The Twilight Saga: New Moon and said it was easier the second time around. 

Ashley Greene returns for New Moon
"Because since we know each other so well, it is kind of a no-brainer," she said. "We already have this kind of chemistry, so it wasn't hard at all. I was kind of wondering about that, but we are such close friends and we definitely had a platonic relationship, so going and playing romantic, I was wondering if it was going to be harder or easier, but because we are already so comfortable with each other, it was actually less awkward than with someone I didn't know." 

It might get tougher as she moves into Eclipse but Greene isn't there yet. "I just got the script, about three days ago, so I haven't had a lot of time to really dig into it. But I will, I'll go and work with my coach and bounce ideas off of her. But it's kind of nice, because we are playing the same characters and we're just moving on with them and digging through different layers, so I feel like the hard part of it is kind of over and we're just having fun with it. But I'm excited about a lot of it, but I don't want to give anything away. "
Going through the fandom of Twilight is a common experience few people could share outside the Twilight world. "Obviously, I can't speak on anybody else's behalf, because I don't know, but I think that we are all definitely looking at each other going, 'What is going on? What do you do? Does it happen to you?' so it's very nice to have someone right there going through the same thing as you and to be able to relate to it. And, yeah, I think it's had a tremendous effect on how close we've all become." 

Still, even Greene knows why Robert Pattinson and Kristen Stewart have become sex symbols. "Personally, for me, it how genuine they both are. They are both very authentic people and that comes across on the screen. Their chemistry is really incredible, together, and individually, as well. They are just like that for a reason." 
---
Asley och Chace kramas
Publicerat: 2009-08-18
Här är en liten intervju med Ashley på Teen Choice Awards på röda mattan, det jag tycker är så gulligt är ju att nu har vi ju sett bilder på henne och Chace Crawford kyssandes dagen efter Teen Choice och i denna videon hälsar de och kramas lite :) Så gulligt! :) 
Se videon och deras hälsning här: 
http://www.ashley-greene.com/?p=424#comments
---
Ashley Greene och Chace Crawford!!!???
Publicerat: 2009-08-10
Det är Ash och Chace!
Kolla här för ännu bättre BILDBEVIS
---
Jag brukar inte skriva om rykten, men detta måste jag skriva om, speciellt när det finns bildbevis !;)
(Chace spelar Nate i gossip Girl!)
Vad tror ni om detta!?
Så här skriver laineygossip:
Ashley Greene is heading back to Vancouver. Before leaving this morning she said goodbye to Chace Crawford. With her lips. See?
Ashley and Chace were both at the Teen Choice Awards last night. Wonder if they slept or if he kept her up asking a million questions about Robert Pattinson's favourite colours.
Ashley was last linked to Adrien Grenier - smart to get rid of him with all his Ebola history. Before that Ashley was also getting down with Ian Somerhalder from Lost and now The Vampire Diaries for an evening in Vancouver.
Twilight has its very own Manslinger. Good. She's in control, she calls the shots, she walks when she wants to. Love it.
Hur som helst, jag låter bilderna tala nu:
Källa
---
Ashley är tillbaka i L.A
Publicerat: 2009-08-09
Ashley är tillbaka i L.A för att vara med i Teen Choice Awards! :)
Och så här glad var hon:
För övrigt så har röstningen för TCA stängt nu, nu får vi hålla tummarna att Twilight vinner ALLT!:D
Se mer bilder Ash
här
!
---
Ashley Greene's Radio Interview with Ryan Seacrest
Publicerat: 2009-08-09
Lyssna på denna intervju som Ryan har med Ashley! :)
---
Ashley på MyFoxLA!
Publicerat: 2009-08-08
MyFoxLA gjorde en intervju med Ashley igår, de pratar om Teen Choice Awards, New Moon m.m och Ashley är like söt och snäll som vanligt! :D 
---
Photoshoot med Ashley!
Publicerat: 2009-07-31
Behind the scenes på en photoshoot som Ashley gjort, dock är det okänt vilken tidning eller liknande den är för, men vack det var hon - som alltid! :)
Se resten av bilderna här: http://www.lionandlamblove.org/gallery/thumbnails.php?album=1547
---
'Special Screening Of Columbia Pictures' "Julie & Julia"',
Publicerat: 2009-07-28
Ashley Greene var på '
Special Screening Of Columbia Pictures' "Julie & Julia"
', :)
Och hon är som vanligt otroligt vacker!!!!
Se fler bilder
här
! :)
---
Ashley på Wired Café
Publicerat: 2009-07-27
Ashley hos The Wired Cafe på Comic Con 2009! :)
---
Ashley Greene på E! Daily 10, Video Intervju!
Publicerat: 2009-07-23


Hon avslöjar bland annat att hon vill bli en Bond-girl! ;)


---
On Set: Ashley Greene Cover Shoot
Publicerat: 2009-07-21
Check out these exclusive behind-the-scenes photos from our October 2009 cover shoot with Twilight star Ashley Greene (who plays loveable vamp Alice Cullen) at STK/Coco de Ville in West Hollywood. We got some stunning photos of the starlet for our cover story and also enjoyed a visit from E! Daily 10 reporter Debbie Matenopoulous, who stopped by to interview Ashley on the set of her very first cover shoot. Plus, the lucky winner of our fan contest got to hang out on set and enjoy all the action!
Ashley Greene with our contest winner Christine Chan (right) and her friend Nancy
Ashley Greene peruses the photo shoot accessories
Ashley Greene poses for our October cover

E!'s Daily 10 reporter Debbie Matenopoulos flips through Saturday Night Magazine
E! reporter Debbie Matenopoulos interviews Ashley Greene on the set of our shoot
Ashley Greene poses for our October cover
---
It's On With Alexa Chung
Publicerat: 2009-07-17
Ashley Greene var med i It's On With Alexa Chung :)
Ta en titt!:


---
examiner intervju med Ashley! :)
Publicerat: 2009-07-02
Riktigt bra intervju med Ashley Greene, ta er tid att läsa den! :D

While Ashley Greene is mostly known for her amazing acting skills, she is also one of the most beautiful actresses of this generation. In fact, Ashley is up for the 2009 Teen Choice Fresh Face Female award! In this exclusive interview, Ashley shares her beauty tips, the reason behind her haircut, and her crush!

Gabrielle: What is your daily beauty regimen?  
Ashley: I started using BORBA products... they're amazing and leave my face glowing. My daily regimen usually consists of the BORBA: Age Defying Micro Diamond Cleanser, Elastin Fiber Concentrate, HD Illuminating light effects serum, Orbital Eye Rejuvenator and the Age Defying Advanced Recovery Cream. To get eye makeup off, I use the Lancome remover. I also use the MAC wipes to get all the makeup off before my regimen. And of course sunscreen...usually Kiehl's or Dermalogica. Dermalogica also has a really great "special clearing booster" for spot treatment on blemishes.   Is your regimen any different when you're filming?  
It's a little more involved on set with hot towel treatments and Demalogica pre-cleanse to get all that white makeup off. We use a lot Dermalogica products...I love the Microfoliant! 
Do you like to wear makeup when not filming, or do you prefer to go natural?  
I don't really wear foundation...I prefer tinted moisturizer if anything. Usually after the Borba process I don't need it  - my skin is in pretty healthy shape. It's usually Mascara, concealer and lip gloss. 
You recently cut your hair (and it looks great!). Was it for your role as "Alice", or something you wanted to do for yourself? Do you prefer it shorter or longer?  
Thanks! I cut it to make my hair fit under the Alice wig properly. I didn't have to go quite so short but I figured it's the only time I would EVER do it. I'm a long hair girl... I've had long hair my whole life. It's cute short, but I'll grow it back out. In your opinion, what makes someone beautiful?  
I think a lot of what makes someone beautiful is how a person presents themselves. I was talking to someone the other day about how I find French woman so beautiful... it's something they possess inherently. I feel like when someone has a zest for life they come off vibrant and beautiful. 
What are your favorite beauty products?  
BORBA (all of which I mentioned) and Dermalogica. I love Matrix sleek products for my hair - they work very well for me. Rose bud lip gloss is the best. YSL has a great illuminating concealer. Shiseido you can't go wrong with either... their tinted moisturizer is great. I also just found this amazing line in Europe called "Becca;" their stuff is amazing... I have to stock up when I go back because it isn't sold in the US!
Who is your beauty icon?  
Audrey Hepburn is classically beautiful. 
Did you always want to get into acting? If you weren't acting what would you want to be doing?  
I caught the acting bug when I was about 15. I was interested in a lot of things growing up... Law, Sociology, and Psychology mainly. I always loved doing make-up as well.
You hosted the DonateMyDress prom-dress drive, which looked like an amazing event! How was that experience?  
It was amazing. Nothing can top that feeling of helping someone else out and seeing their joy. To see first-hand how you can give so much to someone by doing so little is incredible. 
Do you ever have mornings where you wake up and just don't feel beautiful? If so, what do you do to make yourself feel better?  
Um, yeah, all the time! No one is perfect, everyone has their insecurities. The gym helps a bit :) Usually getting out in the fresh air helps you focus on everything around you and not so much on yourself.
When you're not portraying a character, what are your everyday outfits? Are you more of a casual, sweatpants, jeans and t-shirt girl, or do you like to dress up?  
I LOVE dressing up on red carpets but in everyday life I am a very Florida-casual, jeans, tee's and flipflops girl. I have so many sweats I don't know where to put them all... I love them! 
 What is playing on your ipod right now?  
Jason Mraz and Kings of Leon. Oh and always Lady GaGa at the gym!
What is something about you that someone would never guess just from meeting you?  
I'm a romantic...but only when I find the right person. Otherwise, I'm like a dude in a relationship.
Where do you see yourself in 10 years (if you're even thinking that far down the line)?  
I don't. I can't. I've got so much going on right now... my life is kind of a whirlwind at the moment.
What were you like in high school?  
I was just ready to get out.....I like learning, but I get bored easily. I was very social, very involved  very independent. I had a lot going on.
Who is your celebrity crush?   
Hmmm......Love everyone from Kings of Leon....I've got a crush on the band as a whole. I maaaay have a crush on LiL Wayne and I'm pretty sure I've got a crush on Jackson Rathbone too.
Lip Gloss or Lip Stain?  
Gloss... and Chapstick.
Heels or Flats?
Depends.... Almost ALWAYS flat during the day. 


---
Vackra Ashley Greene!
Publicerat: 2009-07-02
Lion and Lamd Love har en lagt ut bilder från en ny gammal photoshoot med Ash!
och hon är ju helt sjukt vacker! :D
---
Ashley - Nylon outtakes
Publicerat: 2009-06-25
Det har kommit ut nya outtakes från Ashleys Nylon photoshoot! :D
Och hon är så väldigt vacker!
Här har ni några:
Se fler här =)
---
Ashley och Adrian?
Publicerat: 2009-06-17
Så här skriver people:


Dancing close, surfing and snuggling: It sounds like a Hollywood movie, but it was real life for Ashley Greene and Adrian Grenier, who spent the weekend getting cozy in Santa Barbara, Calif.
The
Twilight
actress and the
Entourage
hunk met for the first time Friday during the welcome dinner at Oakley's "Learn to Ride" surf weekend - and were practically inseparable until Sunday, a source tells PEOPLE.
"They hit it off," says the source, who saw the pair dancing together to music by Kelley James on Friday night. "[They] really had a great time."
On Saturday, Greene and Grenier hung out and talked before taking surf lessons. That night, they met up at a barbeque at El Capitan Ranch and "were flirting and dancing close all night long," says the source. "They held nothing back dancing - it was pretty intense."
Other stars who enjoyed the weekend of fun in the sun - and who stayed at the Bacara Resort - were Lo Bosworth, Mario Lopez and Benji and Joel Madden. But it was Greene and Grenier who sizzled.
"[They] got super cozy all weekend. They were very cute," says the source. "They were hanging out nonstop and they only met Friday. They spent the whole time together - surfed together - everything."
Vad tror ni? :)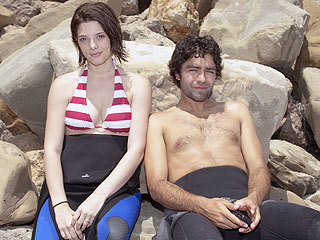 ---
Ashley lär sig surfa!
Publicerat: 2009-06-14
Ashley var på
Oakley Learn to Ride fueled by Muscle Milk.

Här har ni några av bilderna:
se fler bilder här
---
Ashley Greene on Robsten, Some Cast Trying to Quit Smoking
Publicerat: 2009-06-13
---
Copyright © 2009-2010 Twilight News | Designed by: www.marinoni.blogg.se