New Moon Bella & Edward: Missing
Publicerat: 2009-08-22
---
EW outtakes på Kristen och Rob
Publicerat: 2009-08-20
Kristen är väldigt vacker på den här bilden!
Och Rob, behöver vi säga något om han alls!?!?! :D
---
En kyss!?!?
Publicerat: 2009-08-16
Jag vet inte vad inte vad ni tror, men visst ser det ut som om dom kysser varandra????!!!
Eller så så lutar han sig bara fram mot henne för att höra vad hon säger till honom,  :)
tippar kanske på det andra alternativet :p
VAD TROR NI!?
Bilder från twitter!
---
Bild från TCA 2009
Publicerat: 2009-08-13
Jag tycker den här bilden är jätte fin :D
Håller ni inte med?? :)
Bildkälla: Twitter
---
Catherine Hardwicke om "Tortured" Robsten
Publicerat: 2009-08-12
Läs och säg vad ni tror om detta?
Det är ju trots allt
Catherine
som säger att...
Är Rob och kristen är mer än bara vänner?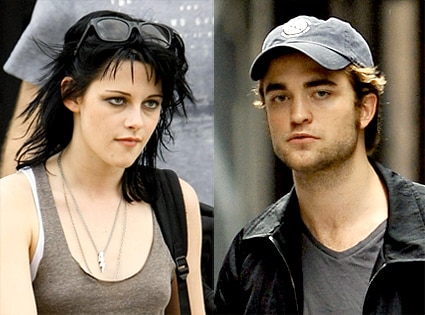 We keep running into these
Twilight
people so much we're starting to run out of questions to ask them!
Since director Catherine Hardwicke is about to finish her crazy-ass ride on the Twilight train, we couldn't pass up an opportunity to chat with the dame director, again. Why?
Because she's friggin' unpredictable, and we effin' love it.

Cathy confirms what everyone else in the cast is too scared to say:
That Robert Pattinson and Kristen Stewart are not just friends.

Check out our interview with her from Sunday's Teen Choice Awards:

Your poor cast! They've all become insane tabloid targets. Do you pay attention to all the rumors?
When I'm in the airport on trips I'll look at the magazines. It's pretty wild. I feel pretty bad for everybody. You wish you could just have a life!

Some aren't exactly rumors though, like Rob and Kristen being more than "good friends." Do you like them as a couple in real life, too?
Of course! I cast them together, so obviously I think they're awesome together. There's no question about that.

Last time we chatted you told us how you knew there was something special with Robsten from the start. What exactly do you think makes them work as a couple?
I think they're both fascinating, tortured artists, which is kind of cool to be with somebody else that gets what that's like. They are both amazing with very interesting minds. So that's kind of cool, too.

Couldn't agree more. So is Breaking Dawn going to get way sexier now that Rob and Kristen are heating up?
It has to be! I mean, come on. There are feathers flying!

Whoever directs it should write some extra Robsten love scenes...
Oh yeah, yeah, they totally should!



(detta är inte vad jag tror, jag tror fortfarande att dom bara är vänner för tillfället,
men vem vet säkert liksom?)
---
Popsugar 100 2009
Publicerat: 2009-06-09
44. Kristen Stewart
Kristen Stewart is everywhere now with the astounding success Twilight.
She's hard at work on the followup film in the series,
and she also makes time for indie films.
Her career isn't the only thing that sparked our interest -
all eyes are on her are-they-or-aren't-they relationship with Robert Pattinson.

Och vem blev då etta....
Joooo ROBERT PATTINSON!!! :D

1. Robert Pattinson
Robert Pattinson skyrocketed into fame this year,
scoring the number one spot on the PopSugar 100
for his first time on the list! The Harry Potter alum quickly became
an international heartthrob as Twilight's Edward Cullen,
with his charming good looks and casual demeanor.
He turned heads at Cannes and had us captivated at the MTV Movie Awards,
and his flirtatious relationship with Kristen Stewart has hearts everywhere aflutter.
We're so happy to welcome Rob to the PopSugar 100 as this year's number one! Congrats!

---
Copyright © 2009-2010 Twilight News | Designed by: www.marinoni.blogg.se