Nya bilder på Rob!
Publicerat: 2009-08-24
Nya snygga bilder på Rob! :D
Bilderna finns tyvärr just nu bara i miniatyrstorlek,
håller tummarna för att dom snart finns i HQ,
(Men killen är ju SJUKT snygg!)



Dessa bilder cirkulerar även på internet. De måste också vara nya!


Källa:Twilightsweden


---
Intervju med Rob! :)
Publicerat: 2009-08-15
Exclusive: I can't stay in same place for more than 20 minutes because of Twitter girls, reveals Twilight star Robert Pattinson

Twilight star Robert Pattinson finds being lusted after such hard work, he never stays in the same place for more than 20 minutes.
The 23-year-old Brit has become a sensation as the cold Edward Cullen in vampire movie Twilight.
This week, he took the Hottie award at the Teen Choice Awards - with Megan Fox winning the female equivalent - and was voted the sexiest man in the world ahead of Brad Pitt, and David Beckham in a Glamour magazine poll.
It means Robert is mobbed wherever he goes by screaming girls, especially since the explosion of social networking site Twitter.

"I can't remember what my normal life is like," he admitted in one of his quieter moments.
"Because of internet stuff and Twitter, there will be a crowd if you are in a place for more than half an hour.
"I've learned never to stay in the same place for more than 20 minutes."
He laughed, seemingly still amazed at the Beatles-like level of fandom he has following him.
While many would love that kind of adulation, anyone watching Robert when doing interviews will see he finds the situation difficult to deal with.

The actor, who become a teen pin-up as Cedric Diggory in Harry Potter films The Goblet of Fire and The Order of the Phoenix, hates watching himself on screen and even had a panic attack at the premiere of Twilight.
"The biggest challenge is coping with the crowds," he admitted. "I am a quiet, private person. It's strange.You have to change a little bit.

"Walking down the street comes with screaming. I still can't watch myself either. I have always been like that. Watching myself at the Twilight premiere was a mistake.
"I had never watched anything of myself since Harry Potter.
"But I went to it because my whole family was coming to see it.
"Nothing comes other than this pure discomfort.

"I can't watch myself. I am just feeling everybody else's reaction. I can't handle that at all."
However, Robert claims he's not shy when he's on set - it's only when the film is finished he feels uncomfortable.
But he claims he doesn't care about how he looks, although he seems to be contradicting himself.
Surely if he didn't care, he would be happy to watch himself? He said: "It seems pointless watching it.You get a big ego or you become depressed. So I avoid it altogether."

Away from packed cinemas is also a difficult time for the actor - and not just because of ego. In June, he was hit by a taxi in NewYork while trying to run away from screaming girls.
During filming for Twilight follow-up New Moon, there were claims he was being protected by the NewYork police and Robert admits he prefers it when there are big crowds because there will be security on hand.
"But when you are by yourself, your paranoia runs and runs," he said.
Perhaps not the sentiment of the cool vampire he plays in Twilight and the sequel - which will be released in cinemas in November.

The film, already a huge hit as a book, took 11 gongs at the Teen Choice Awards, with Robert winning Best Hottie and Best Actor.
In the new film, there's a love triangle between vampire Edward, his human love-interest Bella - played by rumoured girlfriend Kirsten Stewart - and werewolf Jacob Black, played by Taylor Lautner.
In the film, Robert goes topless and again that awkwardness is apparent, despite the actor working as a model for four years.

"I was so uncomfortable doing it," he claimed. "It really is so embarrassing," he added with a laugh.
Since the success of Twilight, Robert has played surrealist painter Salvador Dali in Little Ashes and harrowing romantic drama Remember Me, which also stars former James Bond Pierce Brosnan, a film that is due out early next year.
Fresh from playing Edward again, what does Robert make of the character he's turned into one of the world's most famous vampires? "I like playing him," said Robert, who luckily doesn't like going out in the sun, so doesn't have to worry about spoiling his deathly vampire pallor with a suntan.

"I don't know if I like him as a person. "He is a little straight-laced for my liking. He is not rebellious. I think that should be respected."
Robert comes across as a little straight-laced himself, and it seems he wants to rebel on screen for the time being.
He was born in London and, as his mum worked for a modelling agency, it wasn't too much of a stretch to see him modelling at 12.

However, his modelling career only lasted for four years because he claimed he began to look so much older, rather than the teen he had been.
Robert had also taken up amateur dramatics at the Barnes Theatre Company and, in 2004, made his television debut in Ring of the Nibelungs and in the filmVanity Fair, although his scenes were deleted and only appear in the DVD version. His role in Harry Potter followed which had critics calling him the new Jude Law. Of course, yet again, he admitted he finds quotes such as this hard to take.
"I am not very good at taking complements," he revealed.
"I am one of those annoying people.

If someone tells me I gave a great performance, I say, 'oh, yeah, yeah' in a not very interested way.
"But if someone says I am bad or something, thenI agree with it - although I hate it at the same time."
With the first flush of fame, Robert admitted he did check the internet to read about himself and claims it became addictive.

But now he calls internet gossip "toxic" adding: "You can't let yourself be dictated to by anonymous faces."
Like Harry Potter star Daniel Radcliffe, many people will find it hard to ever disentangle Robert with his character Edward.
And like Daniel, the Twilight star is happy, for the time being, for people to remember him for his vampire role.
He's certainly making sure it's not just in Twilight films we see him.
As well as Remember Me with Pierce Brosnan, Robert will be seen next year alongside Hugh Jackman in drama western Unbound Captives.

Director Brett Ratner also wants him for new comic movie Youngblood, which features a superhero team.
At last, showing a bit of steel, Robert said: "I don't think I have to prove anything to anyone.
"I don't expect anyone to give me any breaks.

"I am not one of those people who wants to scream 'give me a chance. I will show you what I can do.'"
"You know, I really don't care. "If you do this stuff, then the audience will respond. And if you can't actually play any other part, that's all right, too."
Luckily for Robert that doesn't look like being a problem!.


---
Robert och Hugh Jackman kram-kompisar!
Publicerat: 2009-08-12
Rob och Hugh träffade varandra inne på TCA.
Och dom såg ut att vara vänner :)
Hugh har ju tidigare sagt att Rob har en väldigt bra sångröst
Men det visste vi redan att han har? ;)
Men man kan ju säga att det blev en riktig hunk-kram! :D



Källa: NewMoonMovie
---
Rob är i Vancouver!
Publicerat: 2009-08-11
Nu har även Rob landat i Vancouver för att spela in Eclipse!
WOOOHOOO! :)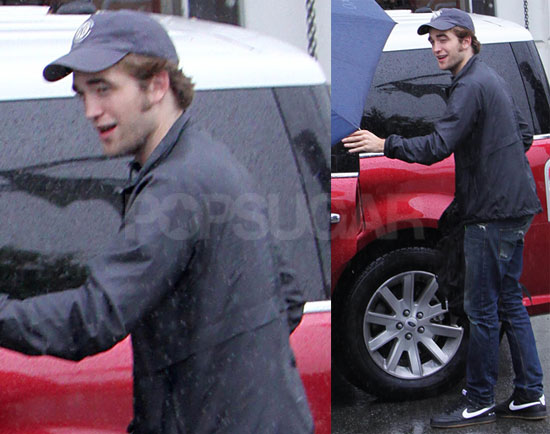 Se mer bilder
här
!
---
Rob är på väg till Vancouver!
Publicerat: 2009-08-10
WOHO, Rob är på väg till Vancouver,
vilket betyder att det är ett steg närmre tills dom börjar spela in Eclipse!:D
(Han ser lite trött ut eller hur? :p)
Se fler bilder
här
!
---
Cedric ger Cho en puss!
Publicerat: 2009-08-09
Åhh vad söta dom är! :) :) :)
 Källa: Thetwilightsaga.se
---
Roberts snygga bil!!!!
Publicerat: 2009-08-07
Okej vi ska ju egentligen inte lägga ut paparazzi bilder.
Men jag måste ju visa Robs snygga bil!!! :D
Han kör inget mindre än en
Porsche
Boxter !
Jag hade ju inte sagt nej till att sitta bredvid honom när han kör på L.A:s gator! ;)
(sen så vet jag att det går rykten om att han körde iväg från Kristens hus när den här bilden togs,
vi tänker inte skriva mer om det för ni vet vad vi tycker, låt dom bara vara helt enkelt! )
---
Världens sexigaste man
Publicerat: 2009-08-06
Här är han! Världens sexigaste man! 
Tidningen Glamour har utsett Världens Sexigaste man, 2000 kvinnor fick rösta och Pattinson tog hem första platsen... 
Hans uttalande om detta var:
– Att bli utnämnd till den hetaste skådespelaren betyder egentligen ingenting, du kanske får uppmärksamhet i en månad, säger han.


Maja kommenterar: Han är så värd att bli utnämnd till världens sexigaste man!!!!:D
Tycker inte ni det?? ;)


Kålla: msn.com
---
Intervju med Robert!
Publicerat: 2009-08-04
OK! Magazine har en super intervju med Rob, han tjejer han är singel! ;)
Did you have any idea what you were in store for when you signed up for Twilight

No way. I read the script and I barely even knew that they were books too. The only reason I went to the audition was to see Kristen, because I'd just seen Into The Wild.
Are you saying you had a little bit of a crush on her?
Of course! No, we are just very good friends.,.
But there have been a lot of rumours about you two...
I know - but honestly, we are just friends.,
Do you have a girlfriend?
No, no. I am young, free and single!

What do you look for in a lady?
I like people being forward. Gosh, I don't know. I like strong people,
chiselled abs... I don't know, I take what I can get!!

You have a huge amount of female fans, are you ever scared by them?
I had no idea people could get so obsessed. But it's not scary - it's amazing. People just project their idea of my character on to me and they just seem to assume that I'm the same, when in reality I'm not.

How comfortable are you with all the idol-like attention?
It's kind of weird, but I still haven't really had time to reflect on it because I've been doing stuff to do with Twilight and my other movies. I'm working constantly and I feel like I'm always surrounded by Twilight people - if not my work colleagues, then my fans. Right now it is fans - it's a little bizarre if I'm honest.

Have you had any weird fan experiences?
One time there were these four girls, in ChicagoI think, and they had all scratched their necks until they bled and then when they came up to me they had these bleeding scabs. It was gross!

What is the hardest part of being Edward Cullen?
Probably trying to be scary when you're supposed to be looking pretty at the same time.

Does it worry you that you may always be cast as a heart-throb?
I'm so surprised things have worked out the way they have, I just keep thinking the whole time, I don't really have the right personality to fit in to that kind of role.
I'm not really afraid of it, though, because I don't really know how to play up that aspect of it.

Why do you think Twilight fans are more obsessed than Harry Potter... fans, Lord Of The Rings fans and Matrix fans?
I don't know, but they definitely are. There is this strange kind of connection that some people have to the books - it can be pretty extreme.
I think there are fans of Harry Potter... that are like that as well, but I guess this story is just so intimate that people think they really know the characters and can feel the emotions.

If you could live forever, like Edward Cullen, what would you do?
Probably learn to speak French. Or I might spend three weeks straight with no sleep learning the piano. You'd get really good at stuff because you would have time to do everything.

You have said that Edward is a little obsessive - are you surprised that girls think of Edward as the most perfect boyfriend ever?
It's weird, but girls always seem like that. Being a guy, you always just look at girls and think, why are you with that guy? With virtually anyone the nice guys always seem to come last.
You always get weirdos like Edward who seem to attract women for some reason. If Edward wasn't a fictional character and you met him in reality he is like one of those guys who would probably be an axe murderer or something.


---
Say What!?
Publicerat: 2009-07-27
At a red carpet gala following Comic-Con Thursday, Megan Fox chatted about her crush on Robert Pattinson.

"I want to eat Robert Pattinson," says Megan Fox.
Why?

To absorb some of his "pretty."
"I want to be as pretty as Robert Pattinson," she adds.

Okej!? ;)
---
Robert lämnar LAX plygplatsen efter Comic Con
Publicerat: 2009-07-27
Det finns bilder på när han lämnar flygplatsen, men det är paparazzi, så här läggs de inte ut! :) 
Men följ länkarna så kan ni se dem!
http://www.celebrity-gossip.net/celebrities/hollywood/robert-pattinson-lax-jet-setter-216101/
http://socialitelife.celebuzz.com/archive/2009/07/26/robert_pattinson_spotted_at_lax.php
---
Robert Pattinson! BILDEXTRA
Publicerat: 2009-07-22
Jag avslutar dagen med 40 bilder på Robert Pattinson!
(dom är nya och snygga!)
ENJOY! :D
---
Ny bild på Rob!
Publicerat: 2009-07-21
Ny bild på Robert Pattinson!
Han är sååååå snygg en en trasig Harley Davidson t-shirt!
Bilden kommer från Us Weekly
(han är snygg snygg snygg snygg!!)
Gillar ni bilden?
---
Robert kan komma att bli: James Bond
Publicerat: 2009-07-19
Robert Pattinson and Pierce Brosnan are wrapping up filming on "Remember Me," in which the Irish actor plays the father of teenage idol Pattinson.

Friday was one of their last days on the set - but insiders are betting that it's not the last time the two will be linked.

IrishCentral sources say the two have talked at length about the "James Bond franchise," in which Brosnan was a key player. Pattinson made clear during the Cannes film festival that he loves the role of the supercool 007. Brosnan who played Bond before Daniel Craig took over the role, made clear to the young superstar that he feels the Brit could be next in line to play the role.

The two have "bonded" on the film set, and Brosnan also had words of advice for Pattinson on how to handle the pitfalls of fame and celebrity. Just a few years back, Brosnan was the hottest thing in movies - the place where Pattinson is now. Extra scurity had to be ordered during the final week of the shoot because there were so many female fans seeking to catch a glimpse of Pattinson.

Next up for Brosnan -- who also has his own film production company - will be a self-financed film, while Pattinson will star in the sequel to "Twilight."

Both men expect to stay in touch however, according to sources.

Vad säger ni,skulle ni vilja se Robert som James Bond?

Källa
---
Rob med en rosa sovsäck ;)
Publicerat: 2009-07-18
---
100 Percent Percent Robert Pattinson Sexy Video Compilation
Publicerat: 2009-07-14
Rob är seriöst sexigast i världen!!!
Ta bara en titt på videon och säg vad ni tycker :)


---
Robert Pattinson är med i Ellen Show på onsdag!!
Publicerat: 2009-07-13
Tydligen så är det mest troligt bara en repris från förra gången han var med i Ellen!
så det blir inget nytt underbart klipp med Rob i ellens soffa :( :p
---
Japp ni läste rätt, Robert ska vara med i Ellen, ännu en gång =)
Han har ju varit med en gång förut! :D
Jag kommer givetvis lägga ut klippet med Rob så fort det kommer ut ;)
Så här skriver Ellen på sin
hemsida
:
JOHN TRAVOLTA is not only a true superstar, he is genuinely one of the nicest guys you'll ever meet. I love him and I couldn't be happier that he's here. Plus, ROBERT PATTINSON has become one of the biggest stars in the world, thanks to "Twilight." He can't even walk down the street anymore without being manhandled by adoring fans (and of course, Chris Matthews). Plus, there's a very touching reunion on today's show that you won't see anywhere else!
Så nedan förra gången Robert var gäst hos Ellen :
Källa: NewMoonMovie
---
Åååååhhh!
Publicerat: 2009-07-13
Ni måste ta och läsa det här :)
Det är ett fan som har träffat Robert Pattinson,
och han verkar faktiskt vara riktigt snäll mot sina fans!
(som om vi inte redan visste det ;p)


So this reader over at
NewMoon Movie
had a cute little meeting with Robert on Set:
I have never done this before but I went to the filming of Remember Me last night. I'm truly surprised by the dedication of some of the fans. There was a lady there who was on vacation from St. Louis. She stood there for 16 hours hoping to get a picture with Rob Pattinson. And guess what, she got her wish. (I only stood around in 3″ heels for over 7 hours)
They had an area sectioned off for us to stand that was right next to Rob & Emilie joint trailer. Apparently in between the camera men setting up for the next scene or angle, Rob goes to his trailer to learn his next set of lines. So we saw him about five times exiting and reentering his trailer. The people guarding him were very nice. They asked us to move back a few times but were very nice and sometimes funny about it. They also talked with us during the shoot.
There's a P.A. there that has the same hair style and hair color as Rob's. He would come in and out of he trailer and the girls would and get sad when it was him walking out instead of Rob. He then later put on a hoodie and mimiced his bent posture like Rob to try and fool the crowd. That didn't go over so well with the group.
So finally the shoot ends at 1:30 AM and there's only 10-15 of us die hard fans left. It was a miracle. He actually talked to the crowed and took pictures with each of us too! I was so very fortunate to have him approach me first as I stood in the front of the line holding out my copy of the April 2009 GQ Magazine. He took my pen to sign the magazine and then looked up at my with a quizzical face. I'm guessing it was because I, a girl purchased and held onto a men's magazine in hope of one day he would be filming in NYC for him to sign, lol. He was so kind as to ask me my name then the correct spelling after he realized he misspelled it. He apologized for messing up. I couldn't believe it. I told him that his mistakes were quite acceptable and it he was ever so lovely to take the time out to speak with his fans.
---
het, hetare, HETAST!
Publicerat: 2009-07-09
---
Rob i Vanity Fair?
Publicerat: 2009-07-09
Enligt E! så kommer Rob finnas på omslaget till Vanity Fair :)
E! skrier följande:
Robert Pattinson has another magazine cover coming up-and thankfully,
it's not some far-fetched tabloid bullcrap this time around.
Mr. Pattinson, I'm told, has landed himself on the cover of probably the most coveted of monthlies-Vanity Fair!
No word yet on if he's even been shot for VF,
but I think it's safe to assume it will be out this fall in conjunction with the November release of New Moon.
---
Copyright © 2009-2010 Twilight News | Designed by: www.marinoni.blogg.se